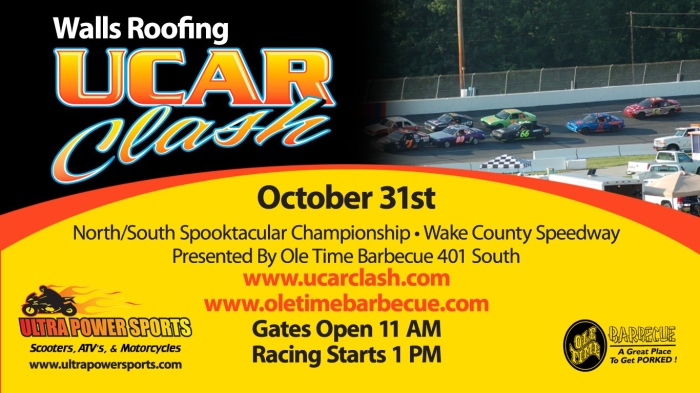 Race info:
Halloween Costume contest for the kids and adults
Future Star Mini Cup
Stock Lawn Mower races for the fans and all drivers
Fun jump houses for the kids outside the track
Kids bike races for children 14 and under and kids power wheel races: See wakecountyspeedway.com for rule
Admission: $5.00 Front gate
Purse Guaranteed by OLE Time Barbecue 401 South
$500.00
$300.00
$200.00
$100.00
$85.00
$55.00
$35.00
8th-30th place - $25 courtesy of Ultra Power Sports of Garner, NC
More Purse info coming soon!


The Spooktackular Trophy
Saturday October 31, 2009 Schedule WCS
Pit gate open at 8
Inspection 8-10
Pre drivers meeting 9:45
Practice 10-11 UCAR - Mini Cup
Grand Stand open 11 $5.00 adult
Practice 11:30- 12
Drivers meeting 12
Heat Races for UCARS – Mini Cup 10 laps 1:00
B-Main if needed 10 laps
C-Main if needed 10 LAPS
D-Main If needed 15 Laps
NASCAR Pit Road Coach Wayne Deloriea Fundraiser 1:30
Kids events and lawn mower races 1:45
Main event Mini Cup 2:30
Drivers go in stands Shriner's fund drive
Main event UCAR 3:00 50 laps
The Walls Roofing UCAR Clash has partnered with Burning Rubber Radio and Nascar Pit road Coach Wayne Deloriea to hold a fundraiser event at the final points race of the year. This event is scheduled for October 31st at Wake County Speedway. Donations will be taken and all proceeds will go to the Shriner's Hospitals for Children. Come on out and make this a memorable event and help those in need at the same time. More information will be posted soon.
The Walls Roofing UCAR Clash has started out this with a Check to the Shriner's Hospital last night for $150.00. I challenge all race teams ,Car owners and fans of motor sports to send in a check today to help get this started October 31 2009 at the October 31-North/South Spooktacular Championship, Wake County Speedway -presented by Ole Time Barbecue 401 South is the big day for this event so lets make it happen for the kids. Make checks out to: Shriner's Hospital for Children On the bottom line please put for the Walls Roofing UCAR Clash Fund event
Send Checks to:
Walls Roofing UCAR Clash
200 Trade St. Bldg. E
Raleigh, NC 27603
Thanks Larry P. Walls
919-291-0938

Trackside race chat will sponsor the most laps lead award.