West Custom Built UCARS can design a car for you from scratch or build a custom roll cage to fit your car. The sky is the limit! West Custom Built UCARS' first priority is safety. Our designs are battle tested and have held up under some of the most extreme racing conditions. Owner Dennis West has built cars in various classes, but mainly focuses on today's fastest growing racing division, the UCAR. He's built championship caliber Cavaliers, Escorts and Hondas that have raced all over the Southeast! Allow him to build your next track champion today!
Below is an example of how our cars are built.
Each car is completely gutted and a roll cage is constructed of 1-3/4 steel tubing.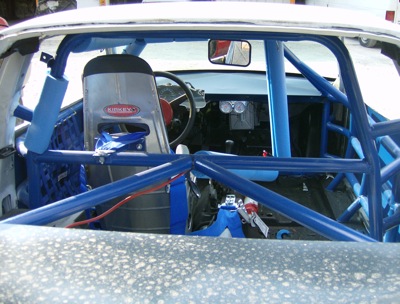 The design of the cage can be as simple and elaborate as your budget or your track's rule book allows! The designers at West Custom Built UCARS have all the right equipment to bend the roll bar tubing to the ideal shape for your car. No need for expensive 'roll cage kits' that may not even fit your make and model!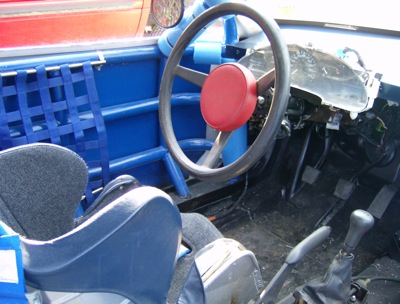 Our cars are built with your safety in mind. Cars come equipped with such safety features as steel plated doors (seen above) and custom made seat brackets.
We put the finishing touches on our cars and send them on their way to wins and track championships!