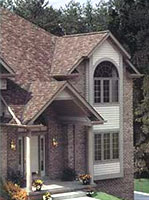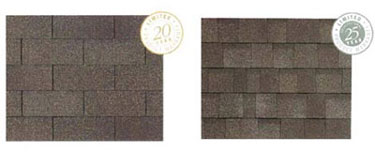 The Owens Corning Roofing System
It goes beyond shingles. When used together, ridge vents, soffits, underlayment, and shingles all play important roles on the roof to prevent an unsightly appearance or premature failure. When a roofing system is designed-in, right from the beginning, every opportunity for a beautiful, healthy roof is in place.

1. Hip and Ridge Shingles
These highly dimensional shingles add definition and style to your roof's ridge line.

2. VentSure® Ridge Vents
Our ridge vents help keep air moving through the attic, balancing the outdoor and indoor temperatures. A roof that's too hot in the summer or too cold in the winter can result in damage like a warped deck or cracked shingles. A well-ventilated attic is key to a healthy roof.

3. Owens Corning Heart-of-PINK Shingles
They come in a wide variety of styles and colors to suit every budget and taste. All Owens Corning shingles have a tough, Fiberglas® mat core that has become an industry standard for quality in asphalt roofing. Performance is at the heart of every Owens Corning shingle.

4. WeatherLock™ Waterproofing Underlayment
Our waterproofing underlayment helps prevent leaks from water build-up under ice dams in cold weather. Especially in coastal areas, WeatherLock™ keeps wind-driven rain from working its way in between the shingles and deck.

5. Raft-R-Mate® Attic Rafter Vents
These extruded polystyrene attic vents help maintain constant air flow from soffit vents through the attic insulation to the ridge vent. Owens Corning Raft-R-Mate® attic vents increase attic ventilation for year-round comfort, reduce energy loss and help prevent roof damage.

6. Vented Soffit Panels
Owens Corning vinyl soffit panels help insure continuous air flow through the attic when used with VentSure® ridge vents and the complete roofing system.
Please Click Here To Learn More About Owens Corning


---
Office Hours: 24 Hours / 7 Days a Week
Walls Roofing LLC
200 Trade Street, Building E • Raleigh, NC 27603 • (919) 772-9635
Fax (919) 772-9989 • E-mail:
Wallsroofing@aol.com